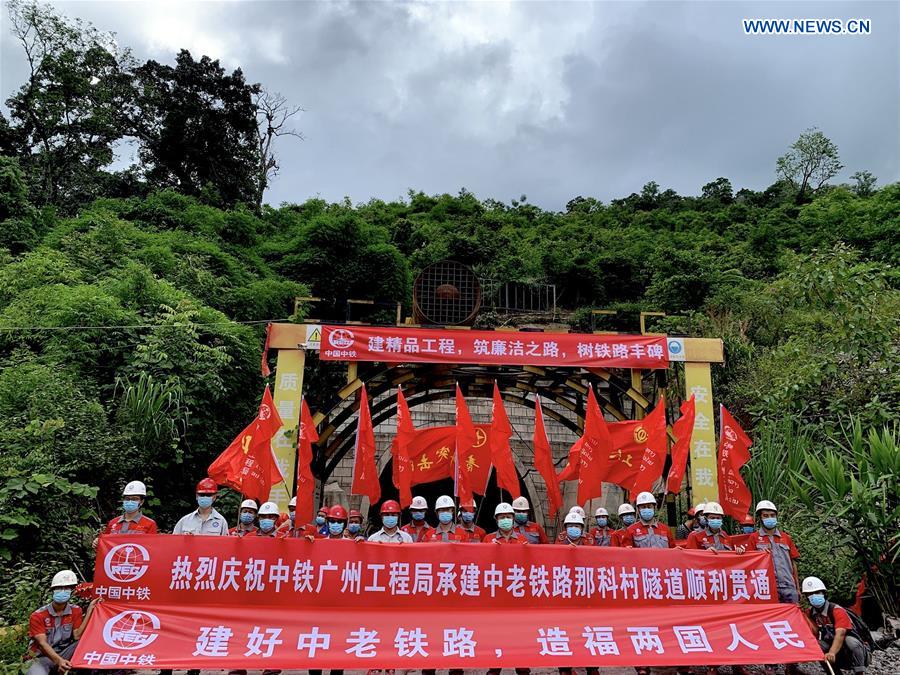 Staff of the China Railway Guangzhou Engineering Group (CRECGZ) pose for a group photo at the entrance to the Ban Nakok Tunnel in northern Laos' Oudomxay Province, on June 21, 2020. China Railway Guangzhou Engineering Group (CRECGZ) drilled through the Ban Nakok Tunnel, the second longest tunnel along the China-Laos railway, on Sunday.
TO GO WITH "China-Laos railway's 2nd longest tunnel drilled " (CRECGZ/Handout via Xinhua)
-- Introduction
Starting from the Mohan-Boten crossing at the China-Laos border, the 414-kilometer-long China-Laos railway will run south to Vientiane, the capital of Laos. It is scheduled to open in December 2021, with a design speed of 160 kilometers per hour. The investment in the project will be about 40 billion Chinese yuan (USD5.76 billion), 70 percent of which comes from China and the remainder from Laos.
The construction officially got underway in December 2016, and 62.7 percent of the railway will consist of bridges and tunnels. The Laos-China Railway Co. Ltd. is responsible for the construction and operation of the line.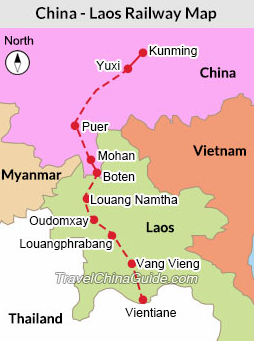 -- Why build the China-Laos railway
Currently, Laos only has a 2.2-mile-long (about 3.5 kilometers)) narrow-gauge railway, which cannot meet the demand of rail passengers and the development of the local economy. When this railway traversing the country is completed, it will first greatly mobilize the development of the Laotian economy, improving its transportation, boosting the tourism industry, and creating more jobs for the locals.
Second, it will make travel between the two countries cheaper and easier compared with the expensive air-flight and time-consuming coach.
Third, China-Laos trains will make it convenient to transport Laotian products, especially agricultural products, to China, and conversely deliver Chinese products to Laos and other Southeast Asian countries by land. Compared with the costly air freight, train freight will great reduce the cost. This High Speed Railroad Project is the first step in building a railroad network which connects China with other Southeast Asian countries. It stands out as one of the notable landmarks in showcasing Chinese High Speed Railway Network to the world.
-- Stations along China-Laos railway
The China-Laos railway is currently under construction and already it ranks as one of the great infrastructure projects of Southeast Asia. The line is 414.332 kilometres, of which there is 258.5 kilometres of bridges and tunnels.
Trains will have a maximum speed of 160 kph between Boten and Vang Vieng, and 200 kph between Vang Vieng and Vientiane. Cargo trains will be able to travel at 120 kph.
There are 21 stations planned, with another 12 built in the future:
1. Boten
2. Nateuy
3. Na Mor
4. Muong Xai
5. Ban NakhokTay
6. Huoi Phoulai
7. Luang Prabang
8. XiengNgeun
9. Ban Sen
10. Kasi
11. Ban BuaPheouk
12. Pha Tang
13. Vang Vieng
14. Ban VangMon
15. Vang Khi
16. Hin Hoeup
17. Phonhong
18. Ban Sakha
19. Ban Phonh Sung
20. Vientiane Neua – (Vientiane North)
21. Vientiane Tay – (Vientiane Main Station)
The China-Laos railway project is actually a section of the Kunming-Singapore Railway Project, which connects Kunming with Singapore, passing through Laos, Thailand, and Malaysia.
Stations: It is planned that altogether 33 stations will be built along Kunming-Vientiane High Speed Railway, including Kunming South, Kunyang, Jinning East, Huacheng, Baofeng, Yuxi, Yuxi South, Puer, Mohan, Luang Namtha, Udomsay, Luang Prabang, Vang Vieng and Vientiane, where passengers can get on and off. When finished, train will be the top choice to travel around Laos as well as to travel between Laos and China.
-- Laos-China Railway Sections
Kunming-Mohan: This section is made up of the Kunming-Yuxi Rail Line and the Yuxi-Mohan Rail Line. The former section is 55 miles (88 km) and has already come into service since December 15th, 2016 with a trip duration of 1.5 hours. The running speed is 124 mph (200 km/h). The latter section is 315 miles (507 km) and has been under construction since 19th, April, 2016; the planned top speed is 99 mph (160 km/h).
Mohan (Boten)- Vientiane: The construction of this section began on 2nd December, 2015 and it is scheduled for completion by 2022. The designed speed is 99 mph and the length is 265 miles (427 km). Around 162 bridges and 72 tunnels will be built along the way, accounting for about 60% of the overall length, making it a really difficult project. Among the bridges, two super ones will run over Mekong River, measuring 1334 yards (1,220m) and 1570 yards (1,436 m) respectively. It is estimated that the project will cost about CNY 400 billion, and is jointly funded by Chinese and Laotian governments in the ratio 70% to 30%.
-- Significance of the China-Laos railway
This line is China's first overseas railway project to provide a direct link to China's internal rail network, and the second such project – after the Jakarta-Bandung high-speed rail link in Indonesia – to be built with Chinese standards, management, technology and equipment. It will also be an important section of the pan-Asia railway network.
Once in service, the railway will significantly boost the economic and social development of Laos, facilitate local transportation and improve its efficiency, and expand cooperation between China and Laos in areas such as trade, investment and tourism. It will contribute to the development of the China-ASEAN Free Trade Area, and inject new life into the economy in China's southwest region.