-- China High Speed Train (Bullet Train)
China high speed trains, also known as bullet or fast trains, can reach a top speed of 350 km/h (217 mph).
Over 2,800 pairs of bullet trains numbered by G, D or C run daily connecting over 550 cities in China and covering 33 of the country's 34 provinces. Beijing-Shanghai high speed train link the two megacities 1,318 km (819 mi) away in just 4.5 hours.
By 2019, China keeps the world's largest high speed rail (HSR) network with a length totaling over 35,000 km (21,750 mi). The world's longest HSR line, Beijing - Hong Kong High Speed Railway, extends 2,440 km (1,516 mi).
Updated News: By the end of 2018, China's national railway mileage was about 132,000km, 5 times of that in the early China, among them, high speed railways reached to 29,000km, ranking the longest in the world. In the past 2019, China has constructed more than 5,000-km high speed rails to connect more destinations, increasing to 35,000km and keeping the world's top 1 record ( 70% of global HSR length). In the following year of 2020, China plan to build 2,000 km new high speed lines to complete the network.
With the longest high speed rail network in the world, China has achieved the goal of the Four Vertical and Four Horizontal High Speed Railway Plan with a total length of 25,000 km/15,534 miles high speed rail (HSR), about two-thirds of the world's high-speed rail tracks by the end of 2017. Based on the existing lines, China will expand the rail system into 8+8 HSR Grid to link cities that had no railways and upgrade the conventional railroads. Featuring high speed of 250~350 km/h, China's high speed rails has greatly cuts down the journey time and attracts numerous travelers for its comfort, convenience, safety and punctuality. In China, most major big cities are connected by high speed railways, such as Beijing, Shanghai, Xian, Guilin, Chengdu, Chongqing, Hong Kong, Hangzhou, Guangzhou, Shenzhen, Kunming, Guiyang, etc. Except those, you can get to more than hundreds of destinations by high speed trains.
-- China High Speed Rail Map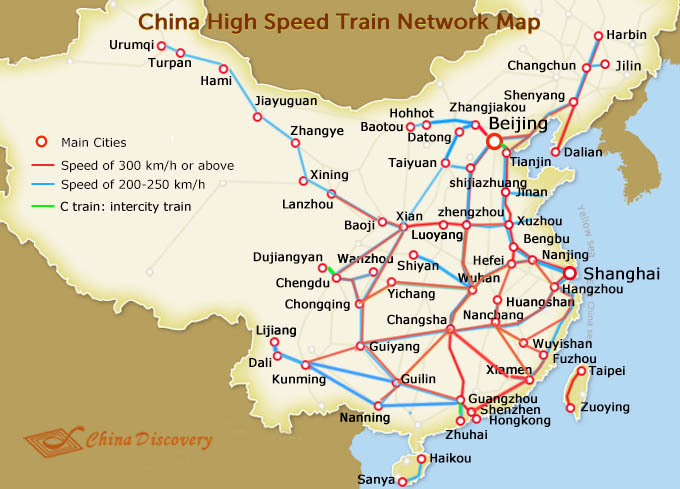 China High Speed Train Network Map (updated on December, 2019)
-- China High Speed Railway Network
China has world's largest high speed railway network as long as 35,000 km (21,750 mi) and capable of accommodating high speed trains running at 250 - 350 km/h (186 - 217 mph).
The present high speed railway network mainly consists of four north-south and four east-west trunk railways.
According to the long-term plan, the network will be extended to eight north-south and eight east-west high speed lines by 2030.
North - South Lines
Beijing – Shanghai
Length: 819 miles (about 1,318 kilometers)
Major stations: Beijing South, Tianjin South, Jinan West, Xuzhou East, Nanjing South, Shanghai Hongqiao
Duration: 5 - 6 hours
Route description: This is one of the busiest lines in China's high speed railway network. By June 30, 2017, the 6th anniversary of operation, this line has served 630 million passengers. It also has two branches: Nanjing – Hangzhou Line, and Bengbu – Hefei – Hangzhou Line.
Beijing – Harbin
Length: 808 miles (1,300 kilometers)
Major stations: Beijing Xinghuo, Chengde South, Chaoyang North, Fuxin, Shenyang, Shenyang North, Tieling West, Siping East, Changchun West, Harbin West, Dalian, Puwan, Anshan, Jilin, Shuangji, Yingkou East
Duration: 7 hours between Beijing and Harbin, 3.5 – 4.5 hours between Dalian and Harbin
Route description: Besides the main line, it also has several branches, Harbin - Dalian, Panjin - Yingkou, and Changchun - Jilin - Hunchun. The section between Beijing and Shenyang along the main line is under construction and bullet trains are currently detouring along Beijing-Tianjin-Qinhuangdao-Shenyang Line.
Beijing - Hong Kong
Length: 88 miles (142 kilometers)Length: 1,516 miles (2,440 kilometers)
Major stations: Beijing West, Shijiazhuang, Zhengzhou East, Wuhan, Changsha South, Hengyang East, Guangzhou South, Shenzhen North, Hong Kong West Kowloon
Duration: 9 hours
Route description: Reputed as "world's longest high speed railway, the whole line has been opened on September 23, 2018.
Hangzhou – Fuzhou – Shenzhen
Length: 910 miles (1,464 kilometers)
Major stations: Hangzhou East, Shaoxing North, Ningbo, Taizhou, Wenling, Wenzhou South, Fuzhou South, Putian, Quanzhou, Xiamen North, Chaoshan, Shenzhen North
Duration: 9.5 – 10.5 hours
Route description: It travels along China's southeast coastal line, connecting Yangtze River Delta with Pearl River Delta by high speed trains. According to the long-term plan, this railway will be extended northward to Shanghai, Nantong, Yancheng, Lianyungang, Qingdao (Yantai), Weifang, Dongying, Tianjin, Qinhuangdao, Dandong (Dalian), and westward to Zhanjiang and Beihai (Fangchenggang), forming a network along China's long coastal line.
East - West Lines
Xuzhou – Lanzhou
Length: 870 miles (1,400 kilometers)
Major stations: Xuzhou East, Kaifeng, Zhengzhou, Luoyang Longmen, Huashan North, Xi'an North, Baoji South, Tianshui South, Lanzhou West
Duration: 8 hours
Route description: It has been opened on July 9, 2017. The high speed train can continue running west along the finished Lanzhou-Xinjiang High Speed Railway to Urumqi. Also, the line will be extended further towards the east to Lianyungang. By then, this will really be a very long high speed line across China in the east-west direction.
Shanghai – Kunming
Length: 1,408 miles (2,266 kilometers)
Major stations: Shanghai Hongqiao, Hangzhou East, Yiwu, Jinhua, Nanchang West, Changsha South, Shaoshan South, Huaihua South, Guiyang North, Anshun, Qujing, Kunming South
Duration: 10.5-12 hours
Route description: Running from China's east coastal area to the southwest, this line passes by many different landscapes and is one of China's most beautiful high speed lines. In addition, the Kunming – Thailand High Speed Line via Laos is under construction. When finished, it will connect the high speed railway network of China with southeast Asia.
Qingdao – Taiyuan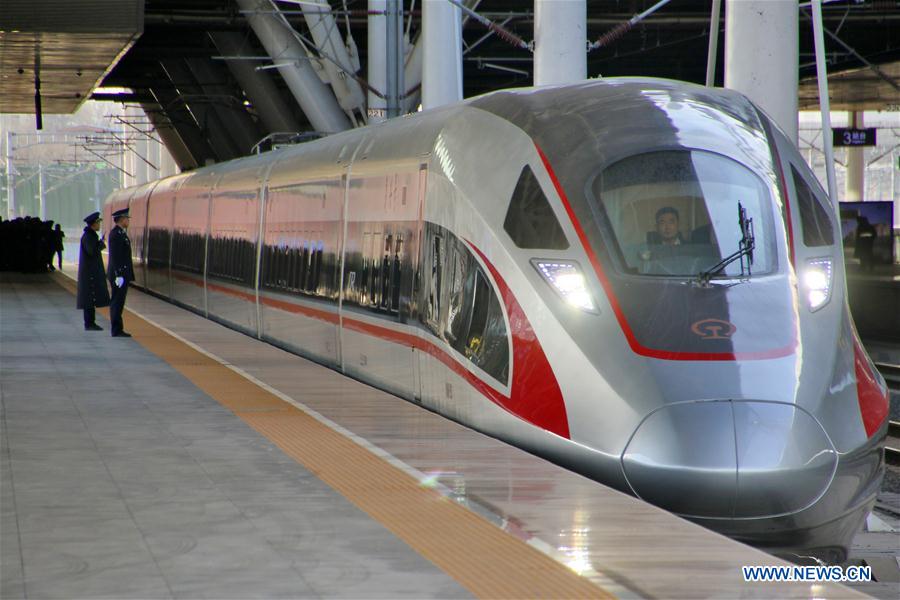 A high speed train sets off from Qingdao North Railway Station, east China's Shandong Province, Dec. 26, 2018. The Jinan-Qingdao high speed railway which started operation on Wednesday will shorten the travel time between the two cities from 140 minutes to 100 minutes. (Xinhua/Tang Ke)
Length: 478 miles (770 kilometers)
Major stations: Qingdao, Weifang, Zibo, Jinan, Zhijiazhuang, Yangquan North, Taiyuan South
Duration: 4 hours
Route description: In the future, this railway will go westward to Yinchuan.
Shanghai – Wuhan – Chengdu
Length: 1,233 miles (1,985 kilometers)
Major stations: Shanghai Hongqiao, Suzhou North, Wuxi East, Nanjing South, Hefei, Wuhan Hankou, Yichang East, Enshi, Lichuan, Chongqing North, Chengdu East
Duration: 14.5 – 15 hours
Route description: It greatly shortens the rail duration for about 20 hours, thus strengthen the communication between Yangtze River Delta with east and south central China.
-- Status and plan
China plans to build at least 4,000 kilometers of new railway lines in 2020, including 2,000 km of high-speed lines, the country's top rail operator said on Jan 2.
The planned development of new railways this year is part of the nation's effort to maintain large-scale fixed-asset investment, Lu Dongfu, general manager of China State Railway Group, said at its annual work conference.
The Ministry of Transport said in December that China would spend at least 2.7 trillion yuan (USD386 billion) on transport infrastructure projects this year, with 800 billion yuan going to railways.
In 2019, 802.9 billion yuan was spent on railways in China and 8,489 km of new track became operational, surpassing the annual targets of 800 billion yuan for investment and 6,800 km of new lines.
As a result, the nation's fast-expanding railway network reached a total length of 139,000 km by the end of last year, while the high-speed rail network exceeded 35,000 km, a year ahead of China's plan to build a total of 30,000 km of high-speed railway lines by 2020.
Among the 51 new railway lines last year, the opening on Dec 30 of the high-speed route linking Beijing and Zhangjiakou, co-host city of the 2022 Winter Olympics, marks significant progress in the autopilot system of China's high-speed trains. Equipped with the system, trains can run automatically at a maximum designed speed of 350 km per hour.
Construction of the Sichuan-Tibet Railway, the second railway into the Tibet autonomous region after the Qinghai-Tibet line, will be a major project this year, he said.
-- Why travel by high speed trains?
1. Fast:
The present operational speed of China trains high speed type is 200-350 km/h (124-217 mph), greatly shortening the travel time. The duration from Beijing to Shanghai has been shortened from 15 hours to about 4.5 hours.
2. Punctual:
Different from flights, they are less influenced by weather or traffic control, hence able to arrive on time.
3. Convenient:
HSR trains are scheduled more frequently than normal ones and many of the high speed railway stations are reachable by subway, making a rail journey much more convenient than before.
4. Reasonablely priced:
Although China high speed train tickets generally cost more than a non-bullet train ticket, it is still cheaper than a flight ticket most of the time. From Beijing to Shanghai, a soft sleeper non-bullet rail ticket costs around CNY500, a second class seat China high speed rail ticket costs around CNY550, while the full airfare of an economy class is over CNY1,000.
5. Comfortable:
The carriages are much better equipped than the old-generation carriages, and rival the facilities of an airplane. The seats are wider and softer, the windows are bigger, and the washrooms are cleaner…
6. Safe:
The fast trains are operated by advanced technological communication systems to ensure passengers' safety to the uttermost.