-- Introduction on Northern Silk Road
The Northern Silk Road, generally known as just "the Silk Road", was opened by a diplomat named Zhang Qian during the Western Han Dynasty (206 BC-AD 24). It started from Chang'an, the then national capital now known as Xi'an in Shaanxi province, went through India, Iran and the Middle East to the Mediterranean sea.
When Zhang first arrived at the country named Daxia, or Tokhgra in Central Asia, however, he found Shu cloth and Qiong bamboo rods, which were produced in Sichuan, proving the existence of a path linking Sichuan and Central Asia before the Silk Road.
While the ancient Silk Road is known throughout the world, another route - the Southern Silk Road that starts from Chengdu, capital of Southwest China's Sichuan province - remains little known.
The Southern Silk Road headed south from Chengdu, through Yunnan province, today's Myanmar or Tibet, to reach India and beyond.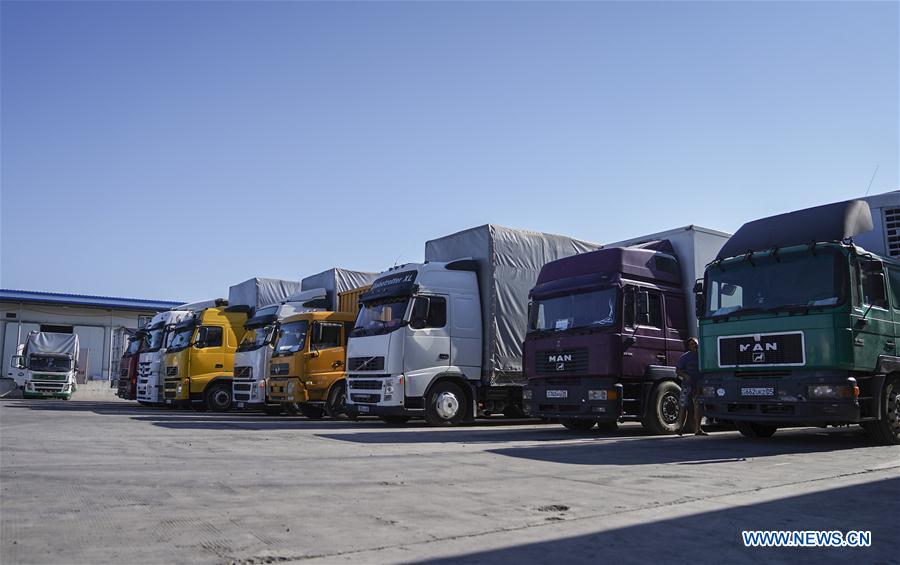 Photo taken on Aug. 4, 2018 shows trucks from Kazakhstan parking at a foreign trade company in Horgos, northwest China's Xinjiang Uygur Autonomous Region, Aug. 4, 2018. The trade at the China-Kazakhstan Horgos International Border Cooperation Center enters a busy season since the beginning of the summer tourism peak. (Xinhua/Li Mengjiao)
The latest archaeological discoveries provide more evidence about the existence of the Southern Silk Road, which might have been opened hundreds of years before its better-known northern counterpart.
The best-quality brocade unearthed along the Silk Road are mainly Shu brocade. Shu brocade became more famous during the Sui (581-618) and Tang (618-907) dynasties, and was one of the major silk products sold along the Silk Road.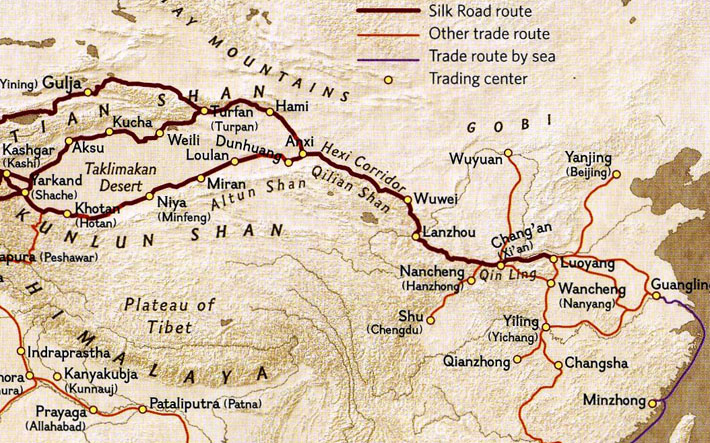 Silk Road started from two capital cities of Han Dynasty – Chang'an and Luoyang, moved westwards and split into northern, middle and southern routes.
The northern route started from Chang'an (from Luoyang in later Han), moved along the Wei River, reached Baoji and Longxian, climbed over Liupanshan Mountains, crossed Yellow River at Jingyuan, last got to Wuwei. This route was the earliest road which was short and lack of supply.
The middle route went from Chang'an (from Luoyang in later Han), separated from the northern route in Shanggui (today in Tianshui), passed by Liupanshan Mountains, arrived at Lanzhou, across the Yellow river, moved northwards to Wuwei. This route later became the major trade route because of short length and better supply.
The southern route left Chang'an (from Luoyang in later Han), went via Tianshui, Lintao and Linxia, crossed Yellow River in Yongjing, then passed Xining to Zhangye. This route through had good supply , but was not chose by most traders because of its long distance.
The northern and middle Silk Road route rejoined the southern route at Zhangye, moved westwards via Jiuquan and Guazhou to one of the most famous cities on the Silk Road – Dunhuang which was the end of the eastern Silk Road in China.