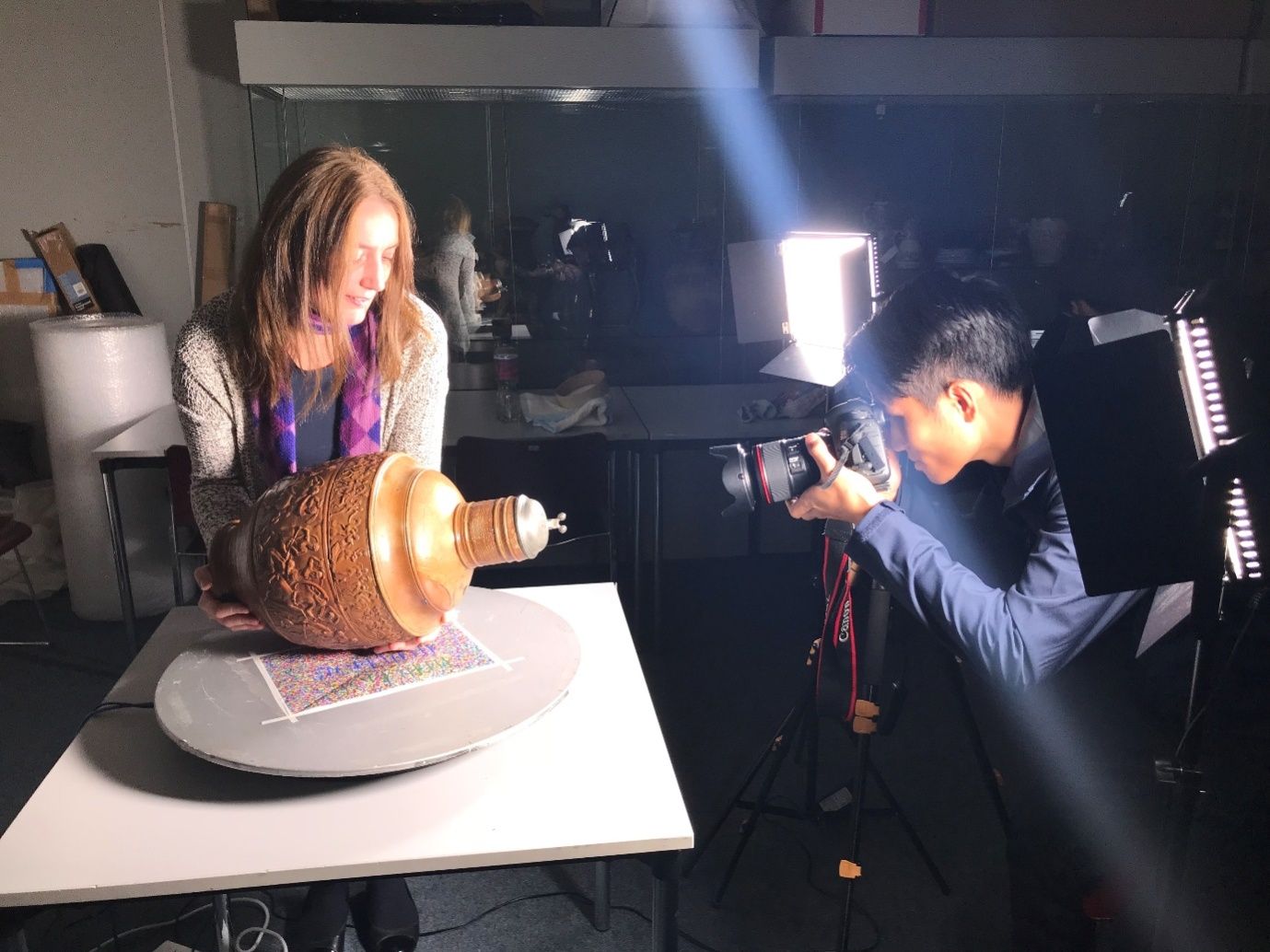 Staff members of 4DAGE gather data of cultural relics in Germany, Nov. 2, 2018. (4DAGE)
BEIJING, April 22 (Xinhua) -- On September 2, 2018, Brazil National Museum, a witness to a civilization of 200 years, was burned down in a fire. The news wrenched the whole world. Heart-struck, Dr. Isabella Hodgson, a senior fellow with Hetjens Ceramic Museum (the Museum), Germany, thus became more determined in pursuing the project of digital museum.
With more than 100 years history, the Museum houses over 20 thousand precious ceramic wares. Ceramic lovers and tourists from around the world come here to feel the ceramic culture stretching eight millennia. Dr. Daniela Antonin, Curator of the Museum, has long cherished such a dream: making more people touch history in close range at home through digital means of the internet era.
"Digitization is an intangible cultural treasure. With it, we can show cultural relics and museums to the world anytime, anywhere." Antonin believes that digitization matters greatly to museums. However, Germans attach importance to information protection, and most museums lag behind in terms of digitization. Therefore, the coverage of digital museum is very limited.
Under the initiation of Düsseldorf City Hall, Germany, the Museum and 4DAGE Technology Co., Ltd. ("4DAGE"), a hi-tech enterprise in China, launched cooperation in museum digitization.
A story between ancient relics and modern tech
"The algorithm developed by our team is a full-automatic, one-bottom, three-dimensional digital technology featuring ultra-high precision. It is capable of cloning objects of the real world to cyberspace," said by Dr. Cui Yan, founder and CEO of 4DAGE. Among 4DAGE's offerings, its "three-dimensional digital reconstruction" technology can achieve a micron precision. It can realize three-dimensional digital scanning and data retention of cultural relics, making them "alive".
With the application of the digital technology, 4DAGE realized remastering of four exhibition halls of the Museum, including the world-renown "CHINA·MEISSEN" exhibition, and 16 exquisite ceramic wares, such as Iznik vase, Turkey stean, and dragon-elephant mascot of the Museum. 4DAGE also made large scene modeling for the Museum at the Ernst Schneider Collection Exhibition held by the Museum in Goethe Museum, Germany, which has been added to the APP of the Museum.
In early 2018, Antonin and Isabella bumped into some of 4DAGE's museum digitization cases, which shed them new light upon museum digital technology, "We thought that the concept of digital museum only means panoramic photos and immersive VR glasses. So we were surprised to learn that it also means immersive roaming technology, by which audience can actually walk through an art museum."
Despite the excitement, Antonin remained cautious, and observed the budding Chinese enterprise for more than half a year. After assessing the latest technologies and application cases of 4DAGE, such as the virtual reality and digital simulation of Hong Kong-Zhuhai-Macao Bridge, the Museum finally recognized the technologies of 4DAGE and signed cooperation agreement.
In November 2018, 4DAGE went to Germany to shoot scenes and models. Since then, the two partners held at least three teleconferences each week to discuss over effects and details. After rounds of discussion, the Museum's APP is going to be unveiled soon.
When Isabella received the download link of the APP debugged by 4DAGE, she saw the flower pattern of a vase "blossom" on the screen. Her persistence and hard work over the year were eventually paid off.
Always expecting the launch of the APP, Antonin believes that the technology will enable ceramic lovers across the world to roam through the Museum at home, appreciate cultural relics in an all-dimensional way, and may gain better experience than on-site tour.
A meant-to-be bonding and fruitful Sino-Germany AI cooperation
Implausible as it might seem, the two teams had never met each other until agreement signing. They mainly communicated via E-mail and phone calls, "Our cooperation was carried out digitally," said a management person with 4DAGE.
Such trust could be attributed to the indissoluble relationship between 4DAGE and Germany. Founder Cui Yan studied in Germany and worked in German Research Center for Artificial Intelligence (DFKI). Antonin said that the academic background of Cui Yan persuaded him to contact 4DAGE, since the founder of 30-plus-year-old DFKI is a key member of German government's technological think tank.
In 2017, under the witnesses of Chinese Premier Li Keqiang and German Chancellor Merkel, 4DAGE and DFKI signed agreement to found China-Germany Artificial Intelligence Institute (CGAII). The two partners decided that each year, 20 working visits of senior fellows will be made to CGAII on a regular basis.
"We plan to engage in deep cooperation in R&D personnel exchange and academic openness, and will focus on R&D of science and technology as well as transformation and output benefit of technological achievements, so as to deepen and promote Sino-Germany cooperation." Cui Yan believes that "cooperation in digital technology will serve as a new bond for Sino-Germany cooperation and exchanges."
"It is easy to generate new ideas when people of different countries come together, with different working styles and cultural background," said Liu Qiang, a senior research fellow of 4DAGE, after attending the exchange of DFKI in July 2018. After rounds of panel discussion, his project "the optimization of positioning technology of space camera" proposed Structure from Motion (SFM) gathering method to replace the original pure Simultaneous Localization and Mapping (SLAM) method, making gathered data more stable and resolving the calculating trajectory drift on white walls and other pure color environments.
"During the several months in Germany, it was an eye-opener for me to learn the cutting-edge image algorithm technology of Europe and their working style." Liu Qiang said, "When I came back, I encouraged all researchers of the department to work hard, and make preparations for applying for exchange programs."
Currently, the CGAII has fruited a few successful R&D achievements through cooperation, such as three-dimensional digital technology, which was used in the Museum's digitalization cooperation project. During internal exchanges, several German museums are making active efforts to participate in the project after seeing the amazing APP presentation.
The launch of the Museum's APP is only a starting point. In the future, more virtual on-line museums will be offered, enabling audience to enjoy the best the museums could offer at one time.
A timeless and borderless journey
Digital technology is benefiting the whole world when expanding its application, which is an irresistible trend of technological progress.
At Expo 2017 Astana, 4DAGE built a VR booth for China Pavilion. Since then, many countries along the Belt and Road routes have proposed intentions for cooperation. At this point, 4DAGE is participating in the construction of the digital and virtual museums and art galleries of Afghanistan, Pakistan, among other countries.
"While we cannot cover up the artistic value of cultural relics with technical reconstruction, we can use technical means to make the precious relics timeless," said Cui Yan, adding that "we hope to build a host of digital cultural relic museums, to make it easier for people along the Belt and Road routes to engage in cultural exchanges."
In Antonin's take, such an approach will enable more people to hear the stories of ceramics through digital means, "such as the tiny salt container, which tells us how valuable salt was in the 18th century."
When the light of technology illuminates the otherwise voiceless relics, past memories are revived and stories are told through digital reconstruction. This is the power of technology, which makes history surpass time and space and make the world a big whole family. (Contributed by Ye Qiong, edited by Yang Yifan)